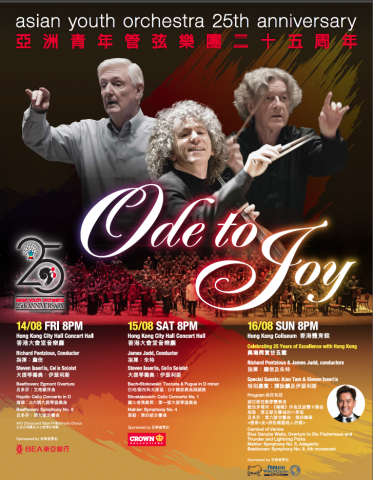 The Asian Youth Orchestra this year celebrates 25 years of artistic and educational excellence, marking the occasion with a special Anniversary Concert on 16th August in the Hong Kong Coliseum.
To make it a truly festive event, AYO 2015 will be joined for this concert by 100 or more AYO alumni coming home to Hong Kong to perform, as well as a Hong Kong Music Summer Orchestra of yet another 100 musicians, a chorus of over 300 local singers and special guests for our Beethoven 9 "Ode to Joy" finale, and special appearances by famed British cellist Steven lsserlis, conductors James Judd and AYO Founder Richard Pontzious, and Canto-Pop legend Alan Tam.
The Coliseum concert is in addition to the two concerts AYO will perform in Hong Kong on 14th and 15th August in the Hong Kong City Hall, as well as on tour in Beijing, Tianjin, Shanghai, Taipei, Chiayi City, Osaka and Tokyo.
Winner of this year's Nikkei Asia Prize for Culture, the award-winning AYO has played some 366 concerts in Asia, Europe, the US and Australia to an audience of more than one million concertgoers. Millions more have seen and heard the orchestra the world on CNN, CNBC, NHK and Radio and Television Hong Kong, since its inaugural performances in 1990.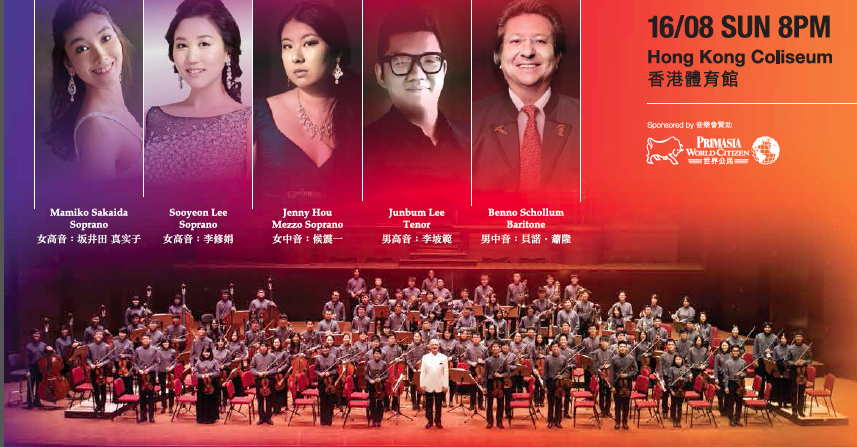 Richard Pontzious & James Judd, Conductor
Special Guests: Alan Tam & Steven Isserlis
Program:
Carnival of Venice
Blue Danube Waltz, Overture to Die
Fledermaus and Thunder and Lighting Polka
Mahler: Symphony No.5, Adagietto
Beethoven: Symphony No.9, 4th movement
'Asian Youth Orchestra-Celebrating 25 Years of Excellence with Hong Kong' is financially supported by the Arts Capacity Development Funding Scheme of the Government of the Hong Kong Special Administrative Region.
The presenter reserves the right to change the program and artists.
Ticketing Enquires: 3761-6661
Internet Booking: www.urbtix.hk
Programme Enquires: 2966-1623 www.asianyouthorchestra.com
Please refer to concert leaflets for ticket discount schemes.